As we are going to do on any Ad network to test conversion, it was Quora Ads turn on this tutorial. We wanted super targeted traffic based on questions from Quora. We thought it would be expensive but it is not.
First you will have to go to https://ads.quora.com and register as an Advertiser.
Then you will get your main screen of ads: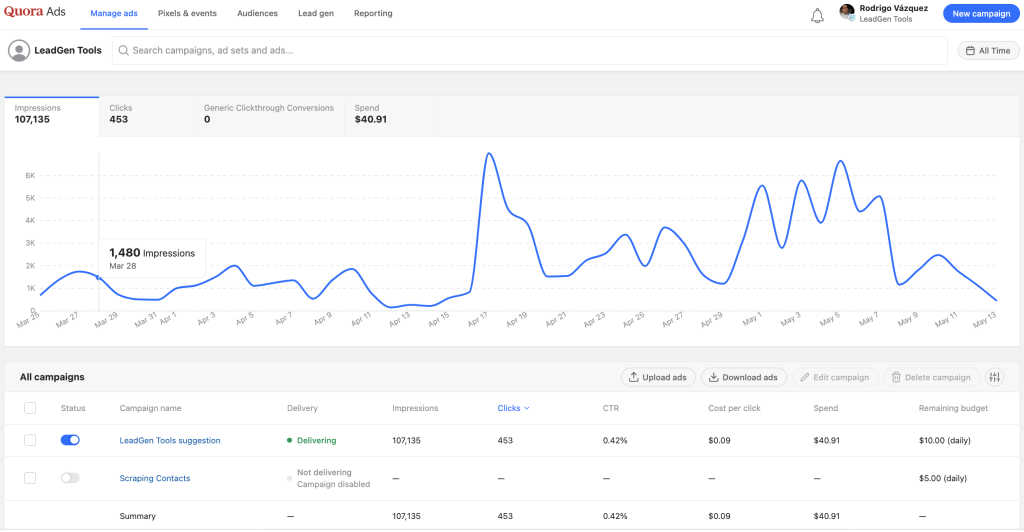 Let us show you what happens when I click LeadGen Tool suggestion link.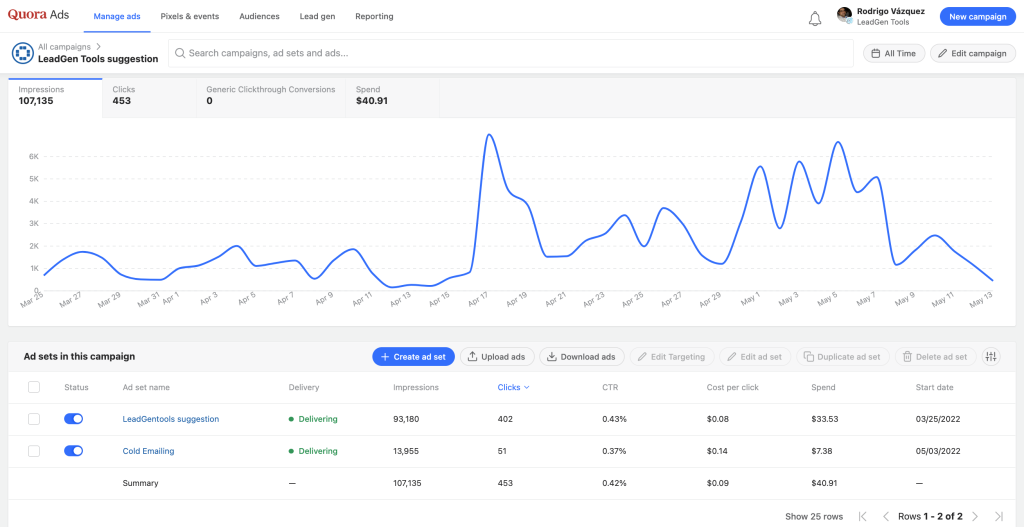 Then if I click first Ad set, it will drive me to all my Ads.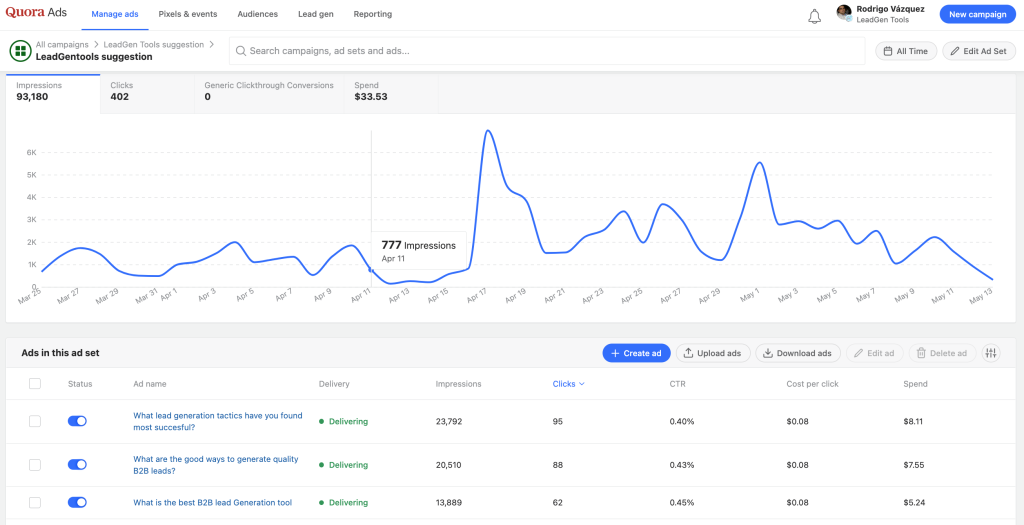 Here we show you more closely all different kind of ads. We made question Ads to appear on traffic very similar to our question. We based these questions based on Quora Search Results and most voted questions when searching our industry keyword.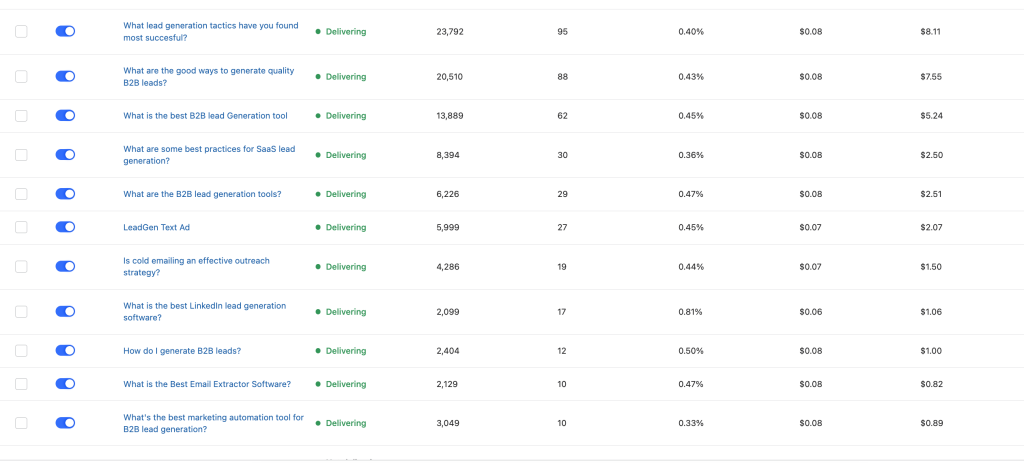 So at this point, you will want to get an idea of how to create an Ad Set and target audience properly. We will guide you step by step because we are going to create a group of Ads of Images and not only Text, but we will show you also how to create a Text Ad.
Creating a Quora Ad Set step by step
You can start a fresh Campaign by going on this endpoint: https://www.quora.com/ads/manage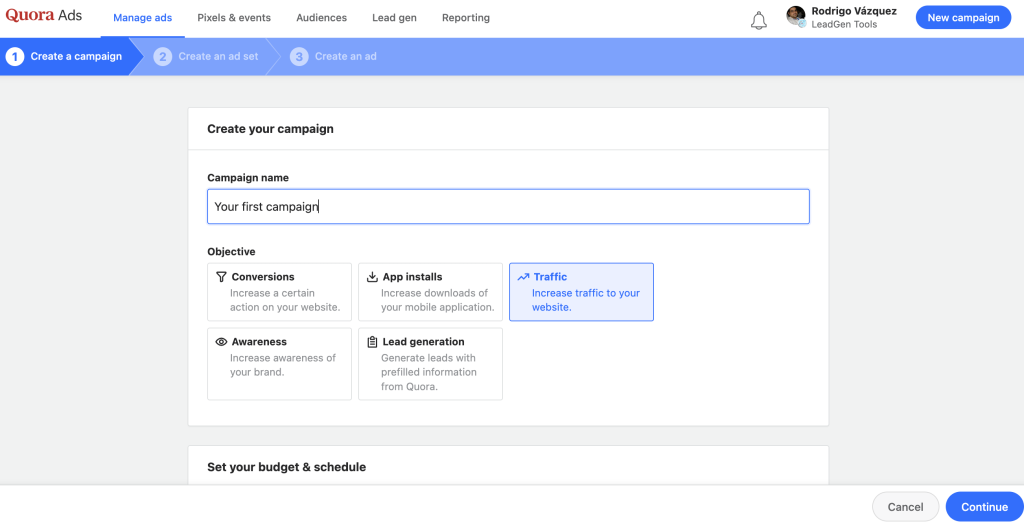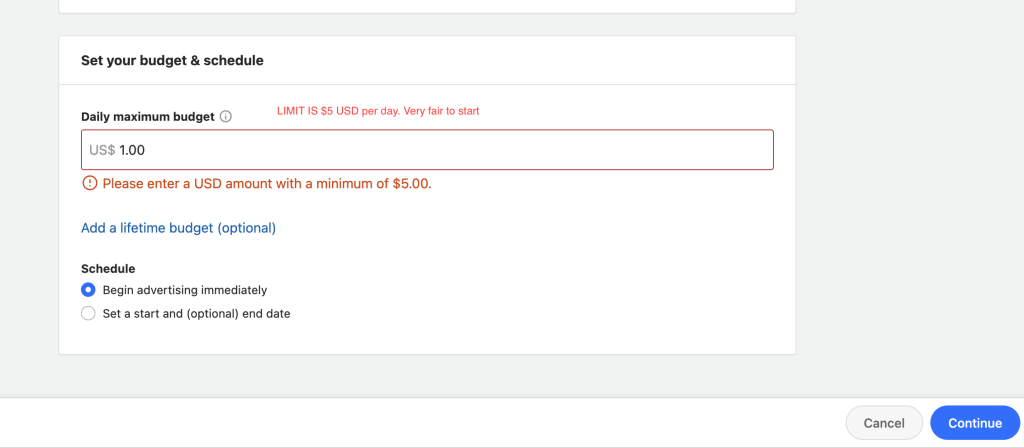 After clicking Continue, the campaign will be created and you will get redirected to Ad Set creating. Here comes the important part, selecting attributes for your audience targeting.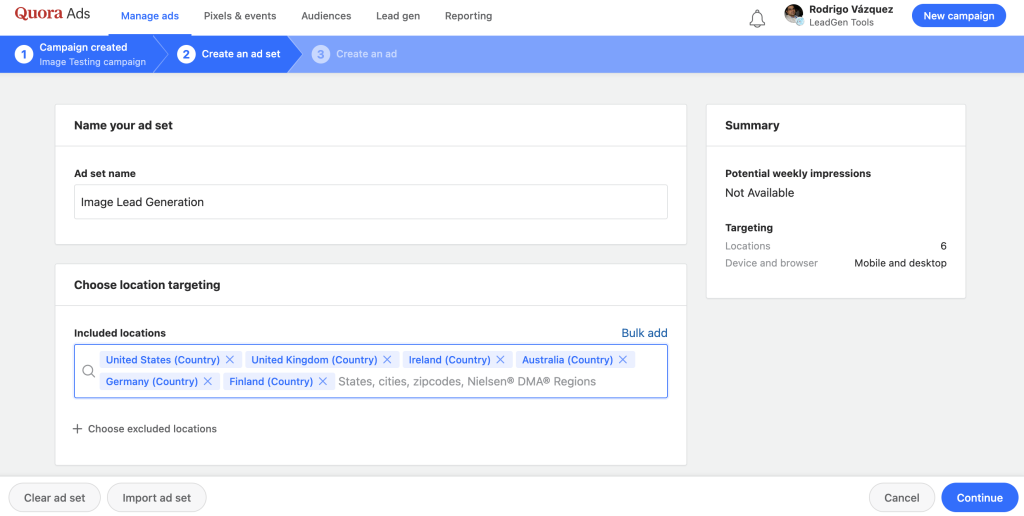 Since Quora has limited traffic, it is pointless to upload email lists of scraped data to be super targeted as we do on Google Ads.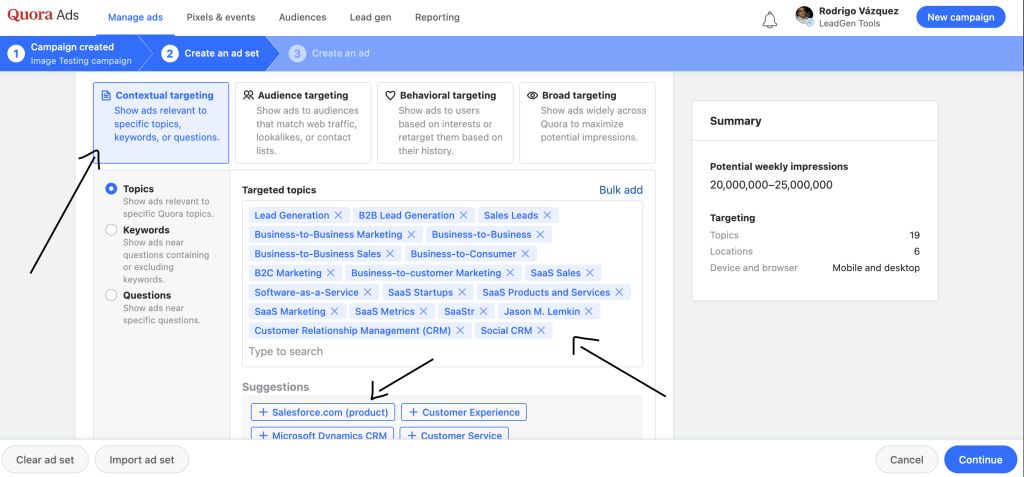 Apparently we suppose this gives more conversions due to the nature of targeting, but we will be doing an experiment with Broad targeting and make a post about it.
Make sure you add a ranged CPC for this, you can try adding lower CPC budget than suggested and see what happens, you can always edit and try for a few days. Rome wasn't built in a day.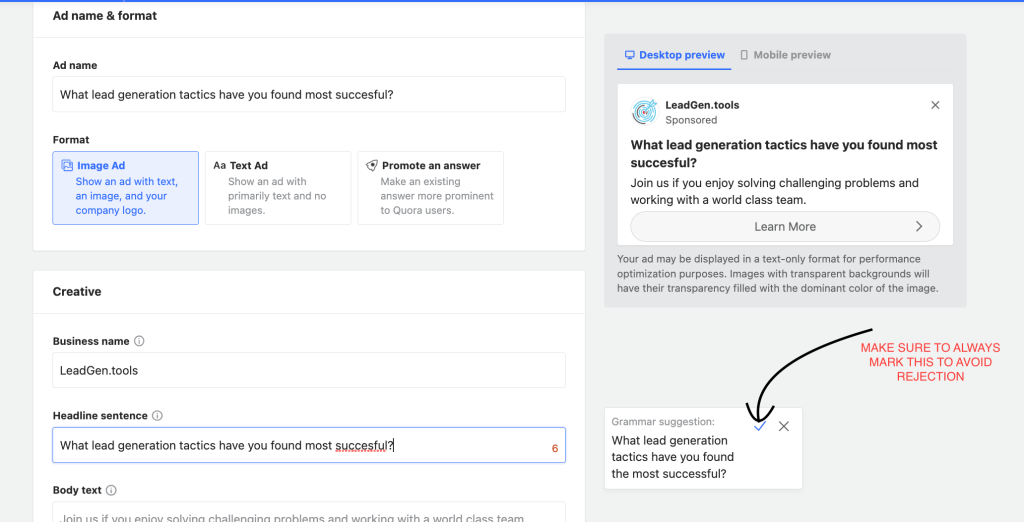 So the next is to try your own copywriting and improve eventually: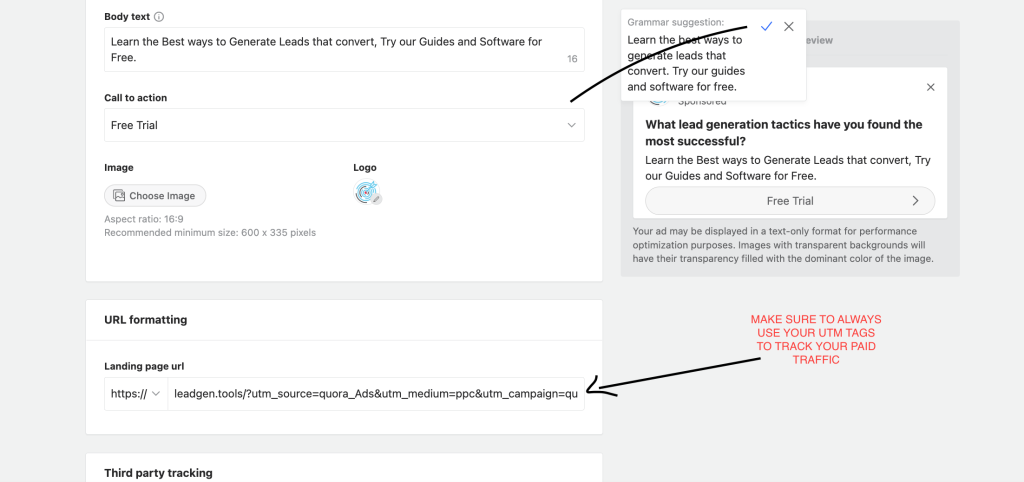 After this, just click on Continue to create Ad and Confirm.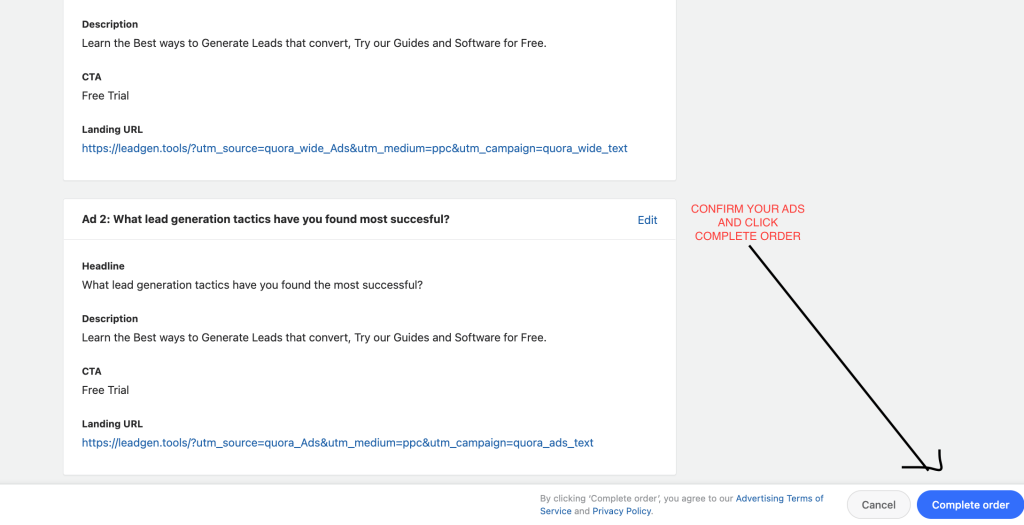 Make sure you add your payment details to keep the campaign going. This is a good investment if you have a good Landing page that Opt-in for people visiting it.
We specially have a Landing Page with a Free Trial Opt-in that leaves name and Email, once they opt-in they bring to register form and ask for credit card. But at least we capture Leads and we can drip-feed emails to them to promote our tool.